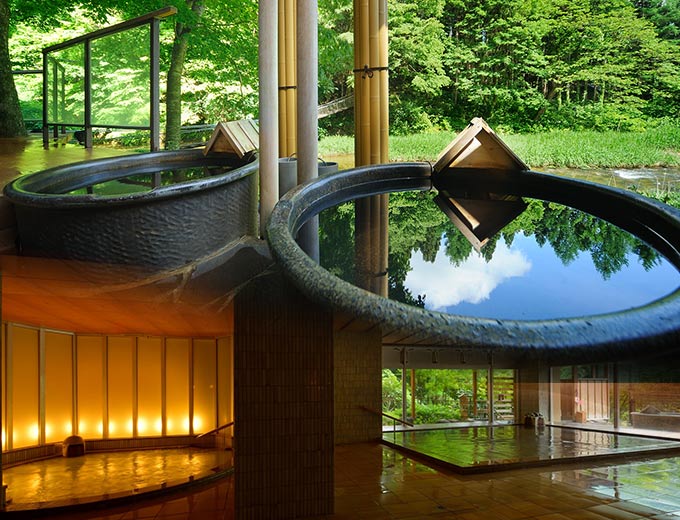 Onsen


Iwate's Hanamaki is a famous hot spring area. Its history and classy onsen are even popular in northeastern Japan.
We have 17 diverse baths for your enjoyment, including outdoor baths looking out over the beautiful scenery
Airinkan's onsen are fully supplied by three natural hot spring sources onsite. The ample water flow is renowned for its quality.
Yama-no-Yu
Looking out on our garden's seasonal scenery, this is the most spacious of our three bath houses. It features indoor baths of different temperatures, an outdoor stone bath, an old fashioned hikoki cypress bath, and a deep outdoor bath we call "Manten-no-Yu-Hoshi."
Mori-no-Yu
Here you can enjoy a variety of outdoor and indoor baths, including a large common bath that looks out on the forest. You'll love the tiny pleasing bubbles of our silky feeling Bihaku-no-Yu bath, the unadulterated hot spring flow of our Shigaraki-yaki porcelain bath, and our deep outdoor tub.
Kawa-no-Yu
Looking out on the forest and the meandering Toyosawa River from the large common bath, here you can relax in baths that reproduce nature through wood and stone. Kawa-no-Yu features a shallow sitting bath, a stone bath with a forest view, a Shigaraki-yaki porcelain bath, and other indoor baths.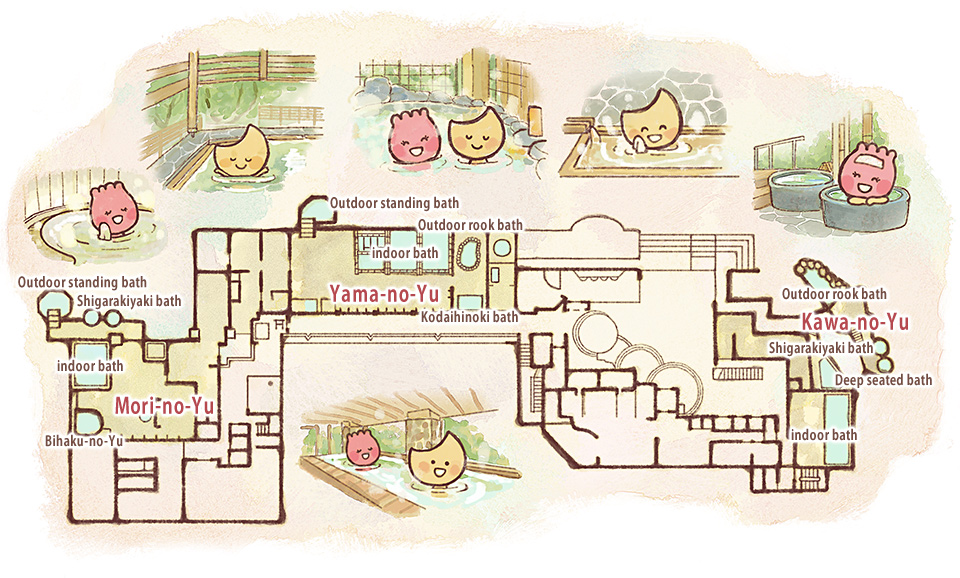 Keep in mind
Please note that bath availability differs by time and day of the week.
Be sure to confirm availability and times at the inn.
Further, depending on the weather, some facilities may not be available. Thank you for understanding.
Be sure to follow Japanese bathing customs.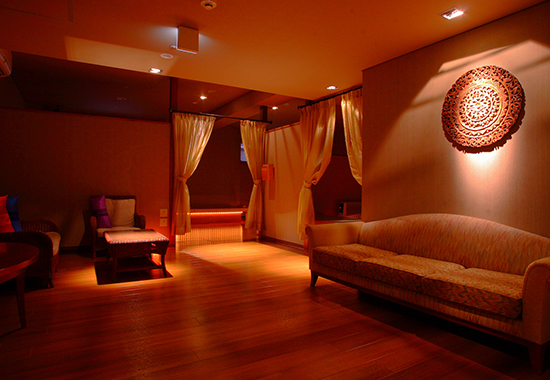 Stone Spa
Lying on the spa's warmed natural stone is extremely relaxing. Unlike a sauna or hot bath, there is no stifling feeling, even if you use it for a long time.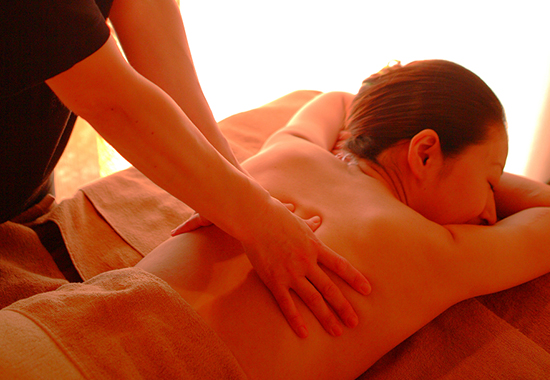 Aesthetic Salon
We provide body and facial massages using essential oils extracted from plants.
Heal your body and mind with our fine onsen and aesthetic treatments.